Posts Tagged 'lakers'
Saturday, February 21st, 2009
but still nice video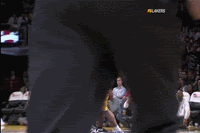 found this on Laker Logic
Wednesday, February 18th, 2009
And that's not a good thing.
Hawks got spanked by the Lakers last night 96-83 in a game that was not even that close (we won the 4th quarter 23-10). When we should have let Kobe have his points and not let the role players beat us, Kobe had a season low 10 and six Lakers got into double figures. Paul Gasol had a triple double and Lamar Odom had 20 rebounds. I'm not sure where to get the stats on this, but I'm sure the Hawks are in the top of the league in giving up offensive rebounding.
You know it was a bad game for the Hawks when under "Top Performers" on Yahoo's game recap it features Zaza for the Hawks. Honestly in recapping how the Hawks did last night I don't know where to start. Joe is soft. He can't take over anything. He is our best player but he cannot get the team in the game, intensity wise. If we are going to be intense as a team it is usually started but someone else (see Zaza or Horford in the playoffs last year). It would be nice for Joe to actually show some emotion and get the rest of the team excited. But we need to realize that is never going to happen. And the best player on a team needs to do that once in a while for a team to prosper. Joe and Bibby combined point total last night was 23. No way the Hawks would have a chance against the Lake show with that showing. Bibby actually 9 in the first quarter which the Hawks ended up leading by one. But he disappeared after that with no points the rest of the game. It would have been nice to see someone get pumped about that and hold the lead but the Hawks decided to play uninspired ball and let Paul Gasol and Jordan Farmer beat them from that point on.
Sandpaper had a big ZERO rebounds to Gasol's 13 and Odom's 20. And he should have been well rested after having most of the last week off. The zero boards were the least he has had since the game he was injured in earlier this year and before that, not since his rookie season. Do these things just happen? Where is the intensity you are playing the best team in the NBA show what you are made of! Of course the IV got way too many minutes and went a miserable 2 of 9 from the field. Take it to the rim Acie. If you look good enough another team will want you more and you can get the heck out of Atlanta.
The rest of the B-Team was filled out by Solomon Jones who has no right to be on the Staples Center floor but looked not terrible last night. The Mario West had a career high 5 steals (he never had more than 2) and career high tying 7 points in 7 minutes of action. The hustle is not going to get him anywhere though.
Random Stats of the night (as mentioned above):
Josh Smith had only his 6th zero rebound performance of his career. He only has 7 one rebound games as well.
Mario West had 5 steals. He had never had more than 2 which he completed in 3 other games. All four career games of 2 steals or more for Mario have been in Hawks losses.
Mario had 7 points, which tied a career high. He had two 7 point games last season, both coming in wins.
Also, don't forget the Lakers are the best team in the league playing on their home gym. Hopefully the Hawks learn something from this game and don't come out flat against one of the worst teams in the Association, the Kings.
Kobe had a lot of time to chat it up last night